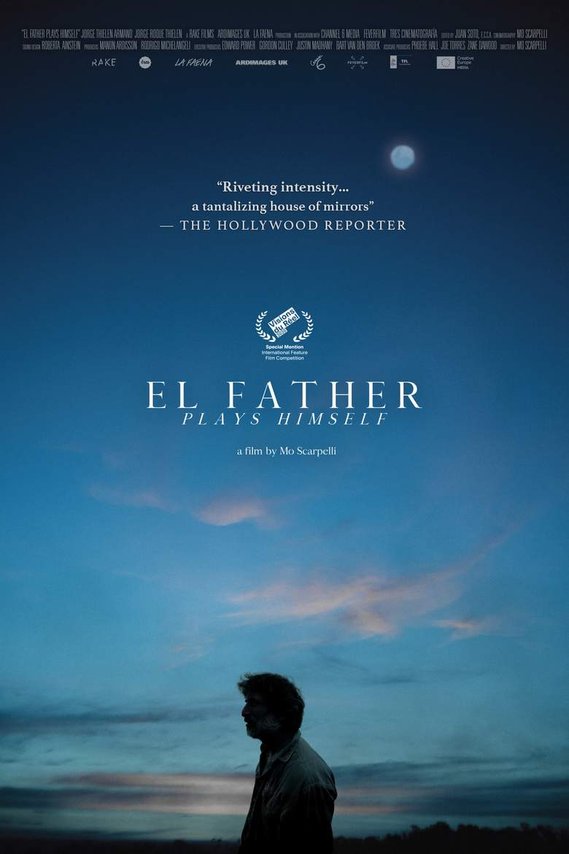 EL FATHER PLAYS HIMSELF


105 minutes
Venezuela | Italy | UK | USA


A father and son return to the Amazon jungle to shoot a deeply personal film. Fiction and reality clash as father plays himself.

Directed by Mo Scarpelli
Produced by Manon Ardisson, Rodrigo Michelangeli
Executive Producers - Edward Power, Gordon Culley, Justin Madhany, Bart van den Broek
Associate Producers - Phoebe Hall, Zane Dawood, Joe Torres
Director of Photography - Mo Scarpelli
Editor - Juan Soto Taborda
Sound Designer - Roberta Ainstein

Produced by Ardimages UK, Rake Films, La Faena Films
in association with Channel6 Media, Feverfilm, Tres CinematografÍa
Distribution with Grasshopper Film (North America), Picl (Netherlands) Rake Films/Ardimages/La Faena Films (worldwide) with the support of the Torino Film Lab Audience Design Fund & Creative Europe MEDIA
Official film website here>
51° Visions du Réel
Awarded Special Mention for Best International Film
Nominated as Visions du Réel selection for Doc Alliance Award 2020


IDFA
Best of Festivals Selection


24° Festival de Cine de Málaga
Awarded Silver Biznaga Prize for Best Direction


Festival de la Crítica Cinematográfica de Caracas
Awarded Special Jury Prize
Awarded Best Direction Prize


37° Festival de Cine de Bogotá
Awarded Best Documentary on Art Prize


17° Festival de Cine Venezolano
Awarded Best Cinematography Prize
Awarded Best Director of Photography Prize


PerSo Film Festival
Awarded Special Mention for Perso Award


DOC NYC


42° Cairo International Film Festival
Special Screenings Selection


60° Krakow Film Festival
International Competition Selection


Dokufest Kosovo
International Competition Selection

Cucalorus Film Festival
Opening Night Film

Garden Route Intl Film Festival, South Africa
Awarded Best Direction Prize
Awarded Best Actor/Character Prize (Jorge Thielen Armand)


22° Lucania Film Festival
Awarded Special Mention for Best Feature Film


Transcinema Peru
Trans-Andes Competition Selection

29° Festival Biarritz Amérique Latine
Avant Première Selection
Santiago Intl Film Festival (SANFIC16)
42° Durban International Film Festival
Golden Apricot Yerevan International Film Festival
Festival de cinéma de la ville de Québec
Maryland Film Festival
Atlanta Film Festival
Festival Internacional de Cine y Memoria Común de Nador (FICMEC), Morocco
Santa Fe Independent Film Festival - USA
San Fransciso IndieFest
London Migration Film Festival
Mammoth Lakes Film Festival
Detroit FREEP Film Festival
Cinéfest Sudbury Festival - Canada
St Louis International Film Festival - USA
** Awarded the Torino Film Lab Audience Design Fund 2020
** Longlisted for the British Independent Film Awards (BIFA) 2021
"There is no film safe from some version of exploitation..."
Mo Scarpelli on making El Father Plays Himself
— Filmmaker Magazine
"Provocative... a richly textured experience"

"Sure to fascinate and hypnotize audiences alike"
— Film Inquiry

"Shocking and moving"
— FilmKrandt
"The intense work of emotional excavation joins reflection...
on the fragile border between reality and fiction."
— Infooggi Italy

"Affection and pain for lost time, with the jungle as a silent witness..."
⭐️⭐️⭐️⭐️
— Trouw
"An utterly compelling insight into the dynamics of a father and son relationship,
as well as masculine performativity."
— Feminist Dispatch Magazine
"Scarpelli's eye is never intrusive, always empathetic,
yet it never feels as if she's holding back, as if she's missing anything."
— Frameland
"Fascinating"
— Cineuropa
"A deconstruction of the parable of the prodigal son"
— Dok.Kiez
"A sort of electrocardiogram of the relationship between life and fiction."
— Duels Italy
"Unfiltered and profound"
— Clapper UK