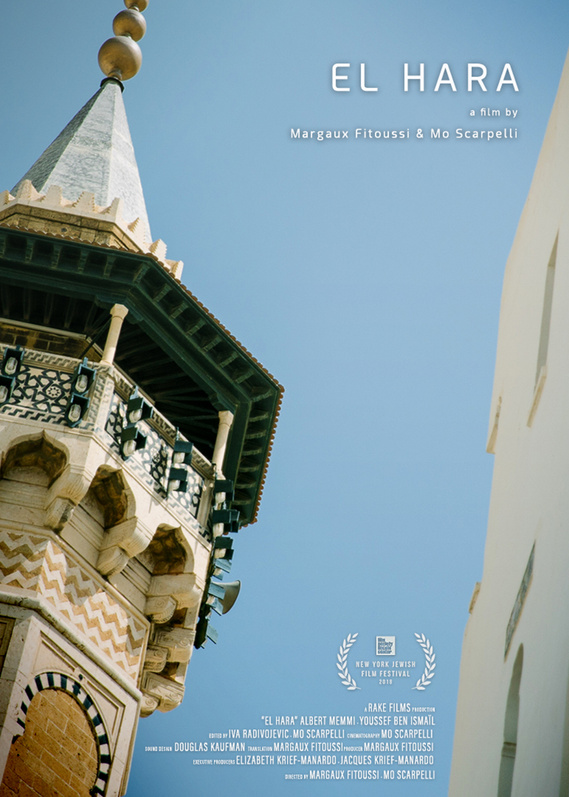 EL HARA
16 min
Tunisia | France

For over 700 years, thousands of Jews lived in El Hara of Tunis. Albert Memmi grew up here. As a Tunisian Jew, he struggled to find his place between the European colonizers and the Muslim colonized. Since then, the neighborhood's Jewish residents have moved on, but Memmi's memories still dwell here.
EL HARA visually drifts through this neighborhood 75 years after his departure, weaving together reflections of one of the world's most important writers on the lasting effects of colonialism, domination, and emigration.
Featuring Albert Memmi
Directed by Margaux Fitoussi & Mo Scarpelli
Produced by Margaux Fitoussi
Cinematography by Mo Scarpelli
Editing by Iva Radivojevik, Mo Scarpelli
A Rake Films production

"In a lyrically captivating journey into Tunis' old Jewish quarter, Margaux Fitoussi and Mo Scarpelli's EL HARA explores the present-day echoes of the departure of its historical inhabitants in the wake of colonial and national upheavals. Interlacing the quotidian sights and sounds of El Hara with Albert Memmi's texts, reminiscences, and commentaries about his formative years there, the film deftly captures the dissonances of a multi-layered Jewish-Maghrebian-French identity. EL HARA, by evoking the ambivalent emotions surrounding Jewish dislocation from Arab/Muslim spaces, subtly touches upon the scars of rupture and loss. While the film returns physically to El Hara, it also reckons with the impossibility of going back to a pre-displacement past, conjuring up instead an imaginative return around an absence that still haunts."
— Ella Shohat
Professor of Cultural Studies, New York University
& Author of Taboo Memories & Diasporic Voices
New York Jewish Film Festival at Lincoln Center

Dar ben achour bibliothèque de la Medina de Tunis
Musée d'art et d'histoire du Judaïsme, Paris
Toronto Jewish Film Festival
UK Jewish Film Festival
Washington Jewish Film Festival
Harvard University Center for Middle Eastern Studies
Alexandria Mediterranean Film Festival
Sephardic Jewish Film Festival
MountainFilm Telluride
Woods Hole Film Festival
Port Townsend Women in Film Festival
San Francisco Jewish Film Festival
Citizen Jane Film Festival
Montenegro Film Festival
Afrika Film Festival - Yamfa Competition
Université de la Manouba, Tunis
The Screening Room at Society for Cultural Anthropology
Exhibitions & Sales
Rake Films
hello@rakefilms.com