FRAME BY FRAME

86 min
Afghanistan | USA

Four Afghan photographers attempt to reshape the narrative of Afghanistan and their history through the photographic image.

Directed by Alexandria Bombach & Mo Scarpelli
Produced by Jeff Orlowski, Mo Scarpelli, Alexandria Bombach
Executive Producers - Louis Venezia, Nancy Schafer
Cinematography by Alexandria Bombach, Mo Scarpelli
Editor - Alexandria Bombach
Music Composition - Patrick Jonsson
Produced by Rake Films, Exposure Labs
CoPilot Pictures, Red Reel.
Distributed by TIME, Inc.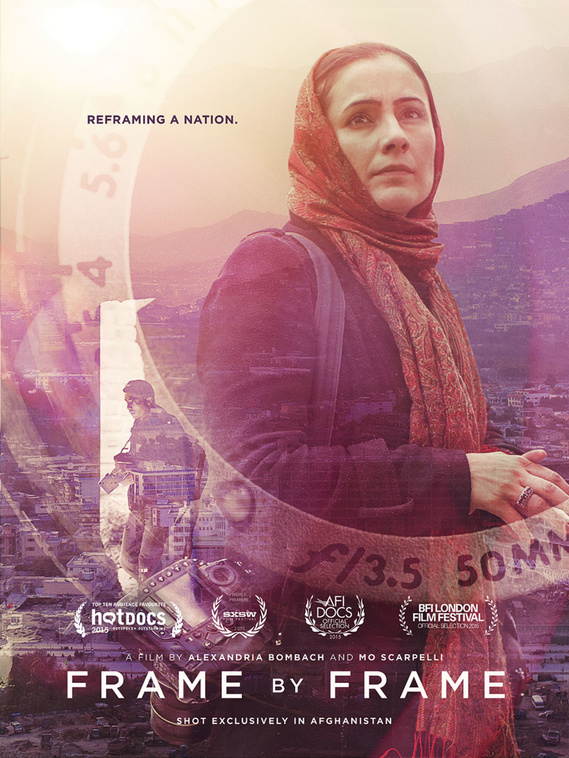 FESTIVALS, SCREENINGS & AWARDS
South by Southwest Film Festival (SXSW)
Documentary Competition Selection

Hot Docs Canadian International Documentary Film Festival
Top 10 Audience Favourites

BFI London Film Festival
Nominated for Grearson Award for Best Documentary

AFI DOCS
Documentary Competition Selection
Festival de Cine y Derechos Humanos de Barcelona
Awarded Best Documentary Film Prize
Camden Intl Film Festival
Awarded Jury Prize for Best Documentary

Seattle Intl Film Festival
Awarded Lena Sharpe Award for Persistence of Vision

Ashland Independent Film Festival
Awarded Audience Prize for Best Documentary

Nashville Film Festival
Awarded Grand Jury Prize for Best Documentary

Cleveland International Film Festival
Awarded Reel Women Direct Prize

Dallas Intl Film Festival
Awarded Silver Heart Prize

Brooklyn Film Festival
Awarded Audience Award for Best Documentary
Awarded Spirit Award

New Hampshire Film Festival
Awarded Grand Jury Prize for Best Documentary

Santa Fe Independent Film Festival
Awarded Special Jury Prize for Documentary

MountainFilm Telluride
Awarded Student Choice Award

Sidewalk Film Festival
Awarded Special Jury Prize for Documentary Feature

Port Townsend Film Festival
Awarded Best Documentary Feature

Cayman Islands Film Festival
Awarded Best Feature Documentary

Washington West Film Festival
Awarded Best Documentary Feature
Awarded Best Debut Direction Prize

San Francisco Independent Film Festival
Awarded Best Documentary Jury Prize

Weyauwega International Film Festival
Awarded Best Feature Documentary Prize
Moab International Film Festival
Awarded Audience Choice Award
Movies That Matter Film Festival - Netherlands
Awarded Audience Choice Prize
Something Somewhere Film Festival - Australia
Awarded Audience Award for Best Documentary
UN Women Film Festival San Francisco
Awarded Best Documentary Feature

Woods Hole Film Festival
Awarded Runner-Up Jury Award for Best Documentary

Citizen Jane Film Festival
Opening Night Film

Flyway Film Festival
Closing Night Film

Reel Awareness Human Rights Film Festival - Canada
Opening Night Film

Arte Cinema Film Festival - Italy
Opening Night Film
Social Impact Media Awards (SIMA)
Awarded Special Mention for Documentary Feature


IFC Center - New York
Laemmle Music Hall - Los Angeles
IDA Documentary Screening Series - Los Angeles
Bertha DocHouse - London
Ted Rogers Documentary Cinema - Toronto
Heartland Film Festival
New Orleans Film Festival
Hollywood Film Festival
Berkshire International Film Festival
Atlanta Film Festival
Maryland Film Festival
Denver Film Festival
Hawaii International Film Festival
Savannah Film Festival
San Diego Film Festival
Bend Film Festival
Smithsonian Institution Freer & Sackler with DC Foto Week
Documentary Edge Film Festival
Macon Film Festival
Persian Film Festival
DOCUTAH
Atlantic Film Festival
Crested Butte Film Festival
Aspen Film Festival
Delhi Photo Festival / Geothe Institut - India
Frankfort Film Festival
Brattleboro Film Festival
St Louis International Film Festival
Southern Circuit Tour of Independent Filmmakers
Rehoboth Beach Independent Film Festival
Guelph Film Festival
Lone Star Film Festival
Independent Photography Festival - Australia
Indievillage Documentary Film Festival - Australia + New Zealand
Afghan Documentary Film Festival / Mumbai International Film Festival - India
Telluride Photo Festival
Big Sky Documentary Film Festival
Sarasota Film Festival
Lo Schermo dell'arte Film Festival - Italy
Glasgow Film Festival
One World Film Festival - Czech Republic
Kansas City Film Festival
ReFrame Peterborough International Film Festival
UNCW DocuTime Film Festival
Exposure Photography Festival
Sedona International Film Festival
Human Screen Festival - Tunisia
Las Cruces Film Festival
Green Bay Film Festival
Frozen River Film Festival
Oneota Film Festival
First Time Film Festival
Belleville Downtown DocFest
Freedom Film Fest - Malaysia
Master of Art Film Festival - Bulgaria
Jacksonville Documentary Film Festival
Hafen 2 - Germany
Global Voices - USNC-UN Women Film Festival
Mendocino Film Festival
Human Rights Human Dignity International Film Festival - Myanmar
Heartland Film Roadshow Summer Rewind
Viewfinder to Asia Films - Macau
Mostra de Mujeres En El Cine Y La TV - Mexico
Providence Art & Design Film Festival
Rocky Mountain Women's Film Festival
MOVE IT! Film Festival - Germany
Human Right Film Festival - Spain
Human Rights Festival - Luxembourg
Movies That Matter - Albania
This Human World Film Festival
SIMA Cambodia Grassroots Film Festival
Inspire Film Festival
FIFDH / Festival du Film et Forum International sur les Droits Humains - Switzerland
ACT Human Rights Film Festival
FLOW Photofest - Scotland
Photopolis Photography Festival
Covey Film Festival
Museum of Tolerance - Los Angeles
UMB Film Series + The DocYard - Boston
NeueHouse - New York
Akron Art Museum
Hollywood Theatre- Portland, OR
MondayScreen - Italy


Private Screening at the Presidential Palace of President Ashraf Ghani
United Nations Assistance Mission in Afghanistan
French Embassy in Afghanistan
Resolute Support by NATO - Kabul
The Wilson Center for Scholars
United States Institute of Peace
National Press Club - Washington, DC
NPR headquarters - Washington, DC
JEA + Newseum - Washington, DC
Foreign Correspondents' Club of Thailand
Afghan Cultural Week in Berlin
Women for Women International - UK Afghanistan Week - London
Support Association for the Women of Afghanistan - Australia
The Hamilton Dialogues
The Mark Twain House & Museum
Seeds of Peace - Abu Dhabi
The Jewish Museum - New York
CONTACT South Asia Peacebuilding Program
Library of Congress Asian American Association
Afghan Australian Development Organisation
Documentary Arts Asia presents F-28 Chiang Mai Month of Photography - Thailand
Louis August Jonas Foundation - New York
World Affairs Council of Kentucky
DOCommunity Series, Auckland Art Gallery
SAWA Australia - Refugee Week
Foreign Correspondents Association of East Africa - Nairobi
PAWA254 - Nairobi
Mujeres en el Cine y la Tv / Women in Film and Television International - Mexico
Hong Kong Journalists Association
"A piercing, poignant and beautifully-composed exploration...
a sharp, soulful doc. "
— Variety

"Exquisitely crafted and emotionally searing"
— The Hollywood Reporter
"Remarkable"
— IndieWire
"Balances the conflict-zone violence with humanity and humor"
– Filmmaker Magazine
"Astonishing"
— Slant
"Superbly made and emotionally devastating look
at a nation truly on the brink... entrancing."
– Criterion Cast
"Tenacious and brave"
– The Austin Chronicle
"Bombach and Scarpelli manage to break free from the usual clichés,
as well as from pietism easy and sensationalism,
and do so with lightness and depth at the same time."
— RACNA Italia
International Sales
Andrew Herwitz
The Film Sales Corp
andrew.herwitz@filmsalescorp.com


everything else
RAKE FILMS
hello@rakefilms.com